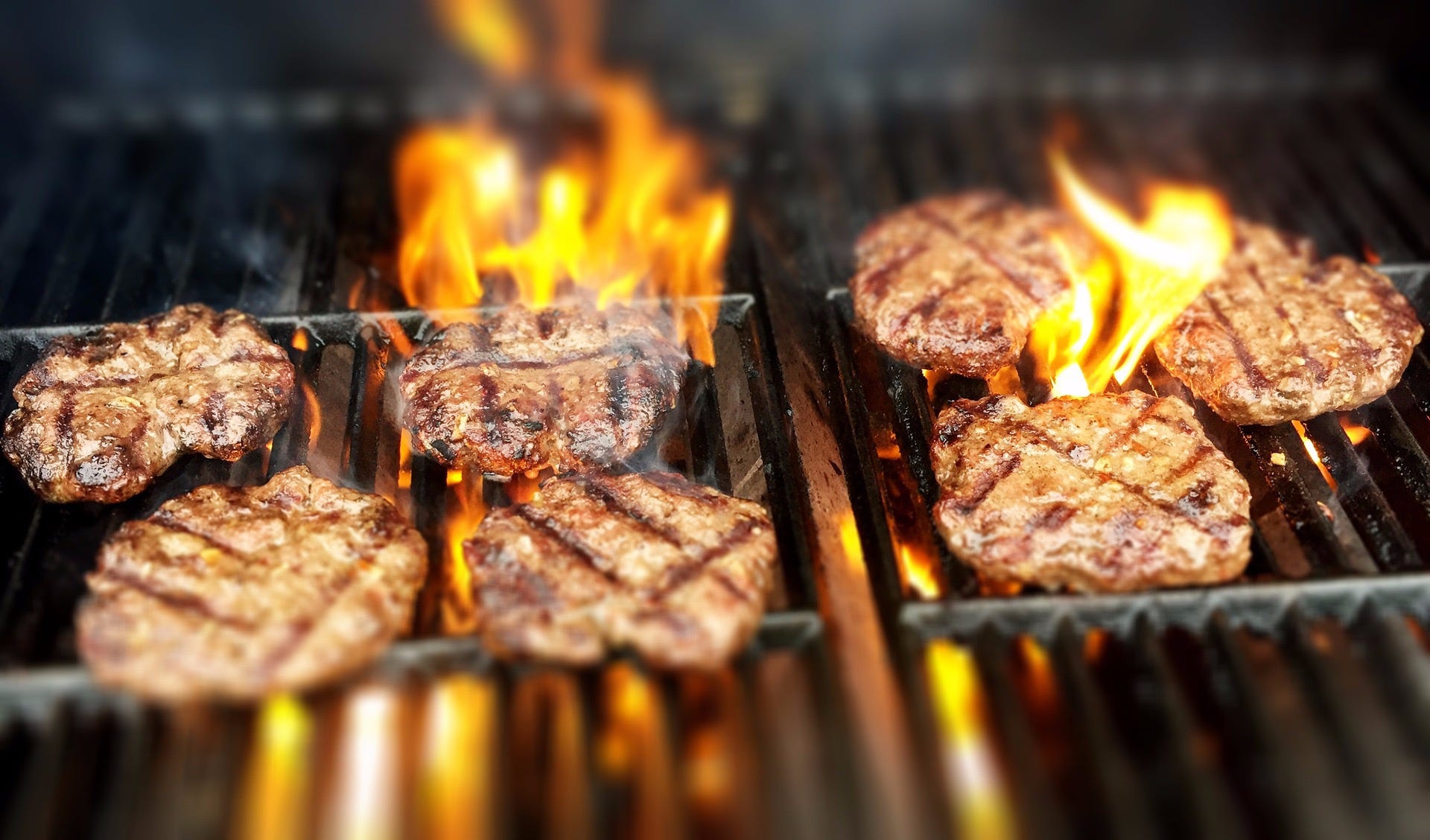 Buffalo Meat from Travers
No matter what angle you look at this: Buffalo meat is one of the most aromatic meats, with an intense taste full of fine nuances.

Come by our farm shop "Le Petit Buffle" and get inspired for new recipe ideas with our delicious buffalo meat.

Les Quarres 3 - 2105 Travers
Open Mon-Sun 7h-22h (self scan checkout)
Burgers
Our buffalo burgers are a success at every barbecue party. You get the authentically seasoned patties in the popular sizes of 100g, 125g and 150g. The burgers are available fresh or frozen in packs of 2 or 4. We also offer our giant packs, customizable in size to suit your event. We regularly supply to festivals and other major events. And by the way: you can grill very well even in wintertime.
Price: CHF 31.50/ kg
Minced Meat
Our buffalo minced meat ensures a thousand variations in your kitchen. The taste is deliciously intense - that's how minced meat should taste.
Price:
CHF 24.-/kg
Veal Sausage
The white sausage made from buffalo meat is not only delicious, but also quickly prepared in the pan. The special thing: The sausages are filled with our delicious buffalo mozzarella. Have fun barbecuing!

Price: CHF 26.-/kg
Dry Sausage
This dry sausage made from buffalo meat is perfect for every aperitif. The savory taste is similar to that of salami.
Weight: 200 g.
Price: CHF 11.50/ each
Tartare de buffle
Our buffalo tartare is a real delicacy. Don't miss out on this culinary experience, preferably with a good pinot noir and freshly baked bread.
Available frozen in 150g portions.
Price: CHF 65.- / kg
Buffalo Sliced Meat
For your hearty goulash, we recommend our sliced meat. You have no cutting work, our butcher has already taken care of that for you. Our tip: first sear the meat and then let it cook with red wine, carrots, onions and celery. Mmmm, delicious.
Price:
CHF 39.- / kg (adult buffalo)
CHF 54.- / kg (young buffalo)
Entrecote of buffalo veal
Roast or slow cook? Try both!
Available in sizes up to approx.1.4 kg.
Price: CHF 89.- / kg
Steak of buffalo veal
Whether rare, medium or well done, our buffalo steak is a dream for every taste. Perfect for a fondue bourguignonne.

Price: CHF
Rump Steak de buffle
In summer a wonderful marinade completes your buffalo rump steak on the grill. And without summer: pan, pepper, salt.
Available in sizes up to approx. 2.7 kg.
Price: CHF 72.- / kg
Filet de buffle
Our fillet is a tender temptation and the absolute highlight: It's the finest buffalo piece. There are 2 fillet pieces per animal, the maximum piece size is 2.8 kg. Please contact us in good time so that we have your piece ready by the desired date.
Price:
CHF 99.- / kg (adult buffalo)
CHF 105.- / kg (young buffalo)
Further buffalo products:
Salami CHF 11.-/ kg
Gendarms CHF 8.50/ 4 St.
Jerky CHF 9.-/ 80g
Merguez CHF 29.-/ kg

Order your gift voucher here, valid for our whole assortment.
Stähli Produits Fermiers SA
Inhalte von Google Maps werden aufgrund deiner aktuellen Cookie-Einstellungen nicht angezeigt. Klicke auf "Zustimmen & anzeigen", um zuzustimmen, dass die erforderlichen Daten an Google Maps weitergeleitet werden, und den Inhalt anzusehen. Mehr dazu erfährst du in unserer Datenschutz. Du kannst deine Zustimmung jederzeit widerrufen. Gehe dazu einfach in deine eigenen Cookie-Einstellungen.
Zustimmen & anzeigen